ATM'S – AUTOMATED TELLER MACHINES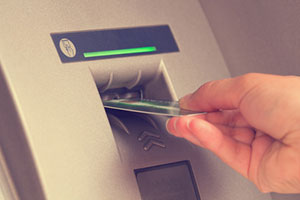 Locate a surcharge free CO-OP ATM
Members enjoy unlimited access at our Silverado CU ATM's and have access to thousands of ATMs worldwide through a variety of ATM networks; STAR, VISA, PLUS, The Co-op and The Exchange. For free access, use a Silverado CU whenever possible.
Withdraw up to $250.00 a day from your Savings or Checking Accounts. If you will need to make cash withdrawals exceeding our 'standard daily maximum cash withdrawal limit' you can make arrangements in advance with the credit union.
We have expanded our ATM network by joining the Co-op Network, which provides access to over 1,700 ATM's nationwide. In addition to the ability to process normal transactions such as cash withdrawals and balance inquiries, members may also make DEPOSITS at these ATM's.
To find the ATM nearest you, click our link below or go to The Co-op's website at: www.co-opnetwork.org and click on the "ATM Locator". Enter an address or a city to determine the nearest participating Co-Op Network ATM.
Most ATM's are accessible 24 hours a day, 7 days a week. Simply follow the step-by-step instructions displayed on the ATM screen.
Free transactions at Silverado Credit Union owned ATM locations are listed below:
Silverado Credit Union Owned ATMs
Home Office ATM
1 Angwin Plaza
Angwin, CA 94508
St. Helena Hospital ATM
[ATM is Located in the Lab Lobby, adjacent to Hospital Main entrance]
10 Woodland Lane
St. Helena, CA 94574
St. Helena Branch Office
1407 Main Street Suite 100
St. Helena, CA 94574