First Mortgage
If you are planning to purchase a home or to refinance your existing mortgage look first to your Credit Union. Silverado Credit Union has a wide array of real estate loans at very competitive rates. Available options include:
Conventional Loans ($417,000.00 Maximum)
Conforming Mini-jumbo Loans ($700,000 Maximum)
No Point loans available on Owner Occupied properties
Loans up to 80% LTV
Owner Occupied
Non-owner Occupied
Purchases or Refinances
Low Loan Rates
Competitive Index Margins and Caps on ARM loans
No Prepayment Penalties
Free/No Fee Pre-qualification
Quick Application Process
Ed Graves, Loan Manager – NMLS #813390
Marilyn Van Dolson, President – NMLS #813389
Silverado Credit Union – NMLS #811850
Second Mortgage
Use the equity in your home to give your family a richer, fuller life. Build a pool, remodel the kitchen, a college education or simply consolidate your bills. Why not consider a second mortgage from the Credit Union? Options include:
Loan to Value Limit varies *Call Credit Union
Owner Occupied
Non-Owner Occupied Loans available (Call credit union for information)
70% Loan to Value Maximum*
No Point Loans available
Competitive Loan Rates
Competitive rates
May offer significant tax savings because interest on the loan may be fully tax deductible. (See your Tax Advisor or Attorney for details)
Property Insurance is required.
Free/No Fee Pre-qualification
Quick Application Process
Automatic Mortgage payment available
* Maximum loan limit is based on the aggregate balances of your 1st Deed & 2nd Deed Mortgage Loans and the property's current market value. Subject to Credit Union maximum loan limits, loan to value and real estate underwriting guidelines.
Home Equity Line of Credit
Take advantage of the equity in your home with a Home Equity 'Line of Credit' loan. Our competitive Lines of Credit can be used for almost any purpose, including:
Home Improvements
Purchase of a new or used vehicle
Debt consolidation
College education
Vacation
Investments
Advantages of our Home Equity Lines of Credit:
No interest is charged until the credit line is used
Borrow up to 80% of your property's value on your Owner-occupied property
Non-owner occupied 'Line of Credit' Loans available (Contact the credit union for details) Interest Rates among the lowest you'll find anywhere
No Points or Loan Origination fees
No application fees
No or low closing costs for qualified members
Easy application process
Variable rate loan (Index is Prime Rate + 0%)
Repayment terms up to 30 years
No prepayment penalties
No annual fees or maintenance fees
A tax break—interest may be 100% deductible (Consult your tax advisor or attorney for details)
Loan assistance & processing done by trained, professional mortgage personnel working for you, the member-owner, not for commissions.
Home Equity 'Line of Credit' Loans are available in California & Idaho.
* Maximum loan limit is based on the aggregate balances of your 1st Deed & 2nd Deed Mortgage Loans and the property's current market value. Subject to credit union maximum loan, loan to value and real estate underwriting guidelines.
Construction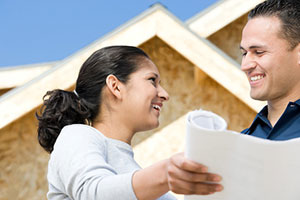 Building your new dream home? A new home can be an exciting project that involves the whole family.
It can also be a little intimidating. We offer our members interim and permanent financing for their new homes. Enjoy the many benefits of using your member-owned credit union.
Owner Occupied Properties
Single Family Residence & 1-4 Units
75% Maximum Loan to Value
$500,000.00 Maximum Loan Limit
Fixed Interim Loan (12 Month Maximum)
Minimal closing costs on Permanent Loan
Fixed or Variable Permanent Loan
Construction Remodeling Loans Available
Interim Construction Loan
An interim construction loan is used to provide funds while the home is being built. This loan is made to the member/home buyer. Typically the member currently owns the land the house will built on, or will be purchasing the land. The contractor should provide the home buyer with certain disclosures explaining their rights under the construction contract, as well as periodic information regarding the construction progress and funds needed.
During the application process, the credit union reviews the contractor's credentials and all building costs.
Once you are approved, you are approved for both the construction interim loan and the permanent loan and they merge together effortlessly. Yes, you can lock in your permanent interest rate as much as 12 months in advance, being protected from increasing rates should they rise during construction. The interest rate during construction is fixed, not the usual monthly ARM. Interest only payments are made during the construction phase of your new home.
Progress is monitored through the actual construction phase by the credit union approved inspector who examines the property prior to the release of funds. The loan is funded in draws, a draw request will be submitted to the credit union. The credit union advances funds as the construction of the home progresses. Draws are funded according to a specific 'draw schedule'. When the home is complete and all funds for the construction loan are advanced, the construction loan will be refinanced into a permanent mortgage.
Permanent Loan
When the construction is complete, the appraiser completes a final inspection to certify the home was built substantially according to the plans and specifications. This inspection is to verify that the type of home the borrowers indicated would be built was in fact built, and the value estimate of the original appraisal is still valid.
In addition to the final inspection, loan documentation and proof of property insurance is provided to the credit union, along with any remaining items required for the permanent loan processing. The construction loan is then refinanced into a permanent loan.
For more information on this product, please call our Real Estate Loan Officer today and you will see that no one does construction financing as simply and hassle free as your member-owned credit union.
The Stages of Home Ownership
Home ownership can have a big impact – in a positive way – on your financial health as long as you buy within your means. Buying a home within your means ensures that you can make your payments and have money left to live on and save for the future. The big difference between renting a property within your means and buying one lies in equity and tax benefits – benefits that you can reap in some form throughout each stage of home ownership.
The first stage is to build equity. Equity is the amount you can sell your home for minus what you still owe. Making your monthly payments on time builds your credit and every time you make a payment, your equity grows. Not only do you bolster your credit and build equity, you also get a tax deduction on your mortgage interest payments and property taxes. In addition to this you also receive a deduction on closing costs the year you buy the home (whether you or the seller paid closing costs). These savings can be substantial – especially in the first several years of owning your home when your interest payments are higher.
Once you build enough equity in your home, you can borrow against it in the form of a home equity line of credit (HELOC). You can use this line of credit to make improvements on the home (a new bathroom or kitchen, for example), which in turn builds more equity. You can claim a tax deduction on your line of credit interest payments as well, which, in turn, saves you even more money. If you think you're paying too much interest, you can also decide to refinance your original loan for a lower percentage rate.
If you decide to sell your home you also receive a tax benefit in the form of a Capital Gains Exclusion if the home has been your primary residence for at least 2 years. This means that, if you are a single owner, you can make up to $250,000 profit on your home without having to pay any taxes on it. For married owners, this amount jumps to $500,000. You can use this money for any purpose (buying a new car, paying for college, traveling Europe) and the tax exemption stands.
Whether you are buying a home for financial returns or you are buying a forever home for your family to grow into, buying a home within your means can be a financially savvy decision. Silverado Credit Union has many options for mortgage loans, refinance loans, and line of credit loans. Invest in your future today and come see one of our loan specialists to help you shop for your home loan!